About Us: Company Profile
A Proud Oklahoma Tradition of Workmanship & Service
We're On Your Side Every Single Step of the Way
We Take Great Pride in Showing Tulsa & Northeast Oklahoma Area Customers How We are Much More than Just Another Contractor
Storm Roofing And Construction, LLC was founded by Erick Maupin in 2014 after several years experience as co-owner of a different roofing company which was geared primarily toward the installation of roofs on new construction, with a secondary eye on replacing existing roofs. It was during this venture that Erick discovered his true roofing passion; helping Tulsa & Northeast Oklahoma area home owners identify and document storm-related roof damage so their insurance company could buy the roof for them (proactively, before the damage gets worse).
This passion for being the customer's ray of hope when facing storm-related roof damage led to the formation of his own company, appropriately named Storm Roofing And Construction, LLC. From the very beginning, it has been Erick's mission to fulfill the specific needs of his customers, utilizing a series of stages his well-trained team knows how to implement and apply on a case-by-case basis.
Every Roofing Project is Backed By Our 5-Point Assurance Plan
We handle every possible aspect

of the Roof Replacement process, relieving you of the burdens of filing documents, licensing, insuring, permits, codes, etc.

We document the damage thoroughly and completely

to ensure all of your Roof Replacement needs will be properly addressed by your Homeowner's Insurance provider.

We meet directly with the Insurance Claims Adjuster

to ensure all storm-damaged items are included in their report and will be completely paid for.

We sit down with the you to fully explain the process

and the details you should be aware of before starting the project. Our team also takes this opportunity to review all of the insurance company's findings to make sure the cost of the project does not exceed your budget.

We install the highest quality complete roofing system

using only the most skilled installers to ensure both the beauty and durability of your roof for many years to come.
Proudly Serving Tulsa & Northeast Oklahoma
Tulsa County • Rogers County • Wagoner County • Muskogee County • Okmulgee County • Creek County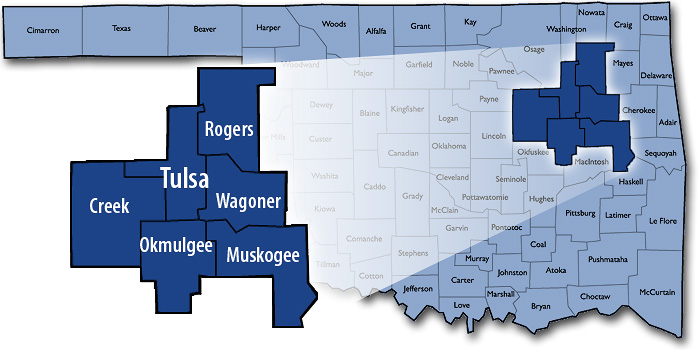 Our Service Area covers the Tulsa, OK metro area and most surrounding cities and towns across Northeast Oklahoma, including:
• Bartlesville, OK
• Bixby, OK
• Broken Arrow, OK
• Claremore, OK
• Collinsville, OK
• Coweta, OK
• Fair Oaks, OK
• Glenpool, OK
• Jenks, OK
• Oakhurst, OK
• Owasso, OK
• Prattville, OK
• Sand Springs, OK
• Sapulpa, OK
• Skiatook, OK
• Tulsa, OK
• Verdigris, OK